1. Case show of 10 tons/24hrs Block ice machine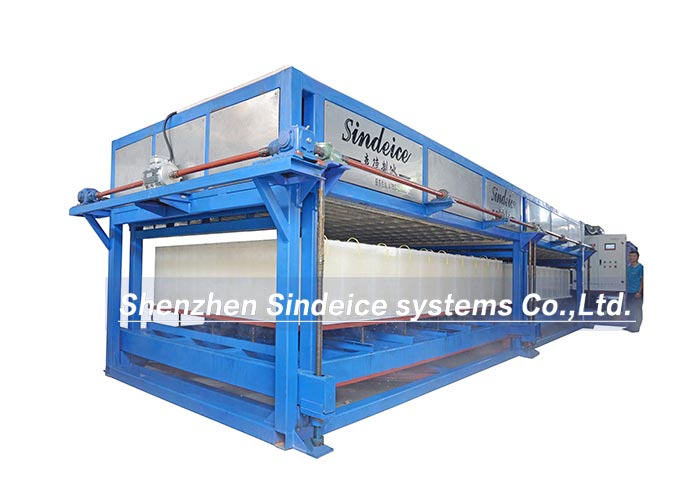 2.Features of block ice machine


Block ice machine is a kind of ice machines, which can be divided into direct cooling block ice machine and brine block ice machine. The ice block has good features of large volume, low temperature, no easy melt, convenient transportation , and long storage time. It plays an irreplaceable role in high temperature tropical areas. It can be crushed into various forms of ice blocks according to different requirements. It is suitable for food processing, fishery production, cooling and preservation, commercial logistics, edible ice requirements, docks and ports, marine fishing, etc
■ Ice block specifications: 5KG, 10KG, 15KG, 20KG, 25KG, 50KG per block. Can be customized according to customer requirements.
■ Overall modular design. Convenient transportation and installation. More economical and simple maintenance.
■ Excellent aluminum alloy plate evaporator. Ice is healthy and hygienic, meeting food requirements.
■ Imported compressors and accessories. Can be paralleled. Provide strong and continuous power to the ice machine. Improves refrigeration efficiency and equipment lifespan. Effectively use off-peak power consumption, and save costs for customers.
■ Reasonable mechanical design, automatic ice making and de-icing system, saving time and effort. The de-icing process only takes 25 minutes.
■ Automatic control. Simple operation. Safe and reliable.
■ Direct cooling block machine can be made into container type: 20ft or 40ft container.


3、Basic parameters of large block machine


Model

Capacity

Refrigerant

Power

Operating

Weight

Ice Weight

Ice Making

cycle

Size(L*W*H)

SDDB-10TR4

10T

R22

36.3Kw

5336kg

25kg

11-12h

9300*2645*2550

SDDB-15TR4

15T

R22

36.3Kw

5336kg

50kg

11-12h

11060*3300*2550

SDDB-20TR4

20T

R22

92.1Kw

6883kg

25kg

7-8h

10670*3300*2550

SDDB-25TR4

25T

R22

98.5Kw

8230kg

50kg

11-12h

10740*3100*2750

SDDB-30TR4

30T

R22

144Kw

10500kg

50kg

11-12h

12550*3430*2750